---
The West Kingdom Roll of Arms

---
Morberie of Tor Denly

Argent, a Crequier plant azure.
Registered: March, 1983

Badges
Sable, on a pile raguly Or an earwig gules.
Registered: June, 1983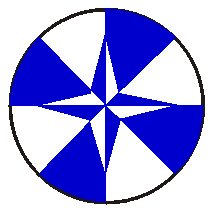 Gyronny argent and azure, a mullet of four points counterchanged.
Registered: September, 1984

Azure, two winged foxes combattant argent and in base a sprig of three aspen leaves Or.
Registered: March, 1996

Per chevron inverted azure estoilly Or and argent, a pile inverted sable.
Registered: November, 1996

---
Arms by Khevron Oktavii Tikhikovich Vorotnikov.